Okay – so there's this rumor going around that women care way more about Valentine's Day than men do. There's this other rumor going around that women don't actually care about Valentine's Day at all. Perhaps how much she really cares about Valentine's Day depends on the woman, but gentlemen: It's safest to assume that she cares at least a bit.
Below is a list of 8 Valentine's Day gift ideas. These are 8 things that score points and will make a woman smile. You can forget practicality – this is one day of the year she wants something pretty and sexy – something she might not buy for herself. Think of it as a magic spell: If you combine more than one of these 8 ideas, it makes for a master plan of awesomeness, sure to secure a spot in her good books:
1. Take her for dinner on the 12th, 13th, 14th, 15th, or 16th
There. I gave you so many date options you have no excuse. Restaurants are crazy on February 14th, but you don't have to celebrate Valentine's Day on the 14th.
Celebrating Valentine's Day a day before or a day after won't make a difference for most women, so you can take her for dinner a different night to avoid that certain madness. It still counts. And dinner is a great Valentine's gift because she likes food. And wine. And most likely, she likes spending time with you.
2. Give her a Valentine
If you think giving her a Valentine's Day card is lame, maybe you're the  lame  one. Because cards are awesome. So stop texting her sweet nothings, and put it in writing in a card instead.
She can't tape your text-message to her fridge. Giving her a Valentine can be sweet and funny, and show your personality. It's something she would love to receive. Etsy makes hilarious Valentine's cards specifically for couples who haven't been together that long (but they also have cards for you highschool sweethearts, too).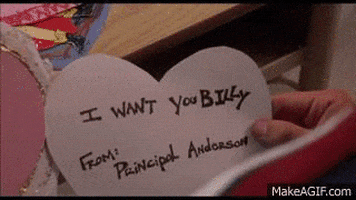 3. Chocolate
Zazubean chocolate bars  not only taste great, but they also give you the option of pink packaging for a certain romantic holiday. This fine chocolate is made with quality, organic ingredients.
As for the pink packaging, a couple of their bars such as the "flirt" bar and the "sassy" bar are pink!
If you're going to get your woman chocolate for Valentine's Day, you can't go wrong with Zazubean. Plus, you might as well pick these up at the store while you're getting her roses.
4. Flowers
So, remember earlier when we said that combining a few of the ideas in this list makes for the perfect magic spell to charm your Valentine? Flowers are an important piece of that master plan.
Even if it's just one single rose. Don't think that you have to get the cliché red or pink rose, either. Since the entire concept of Valentine's Day is one giant cliché, you may as well rebel a little and go for the purple rose. Even better: get one of those giant novelty plush roses – somebody please do that!
5. Jewelry
Whoah – look at you, going all out. Ballin' out of control. If you're going for the jewelry gift, go you.
Did you know that Tiffany & Co isn't as expensive as you think? Many people aren't aware that Tiffany has jewelry in the $100 range. And it comes in adorable packaging. Just saying.
6. A Teddy Bear
Who doesn't love something cute to cuddle with? A soft, cute and huggable teddy is an adorable Valentine's gift.
7. Anything from Victoria's Secret
Women love Victoria's Secret. A sexy black bra or a lacy red thong is a great Valentine's gift for both you and her. Part of the reason why Victoria's Secret makes such a great gift is because it's high-quality lingerie that comes in pretty packaging. (Good news for you, you don't need to wrap it).
8. Pink Champagne
If you have your woman over for a pre-dinner drink, surprise her with pink champagne. It's cute, thoughtful, and most liquor stores sell pink or rose champagne. The fact that you went out and bought something pink to drink shows you're caring and adorable.
I can't think of a better toast on Valentine's Day than two flutes of pink champagne with someone special. Happy Valentine's Day, everyone!